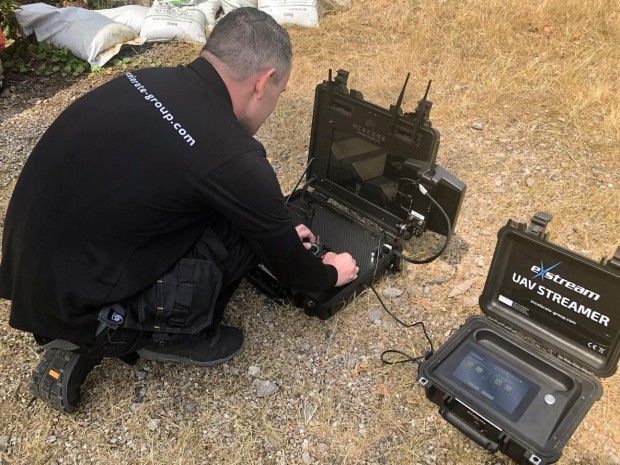 POLICE SCOTLAND has become the first UK police force to implement UAV video technology with the capability to live-stream from drones and helicopters. The newly deployed ExStream UAV Streamer, developed by Excelerate Technology, was customised to improve situational awareness across air-to-ground operations, solving the long-term issue of the feed only being visible to a single operator or otherwise a ground-based unit.
The UAV Streamer connects to existing UAVs and other video devices and delivers the video into Excelerate's ExStream video streaming service even when only low bandwidths are available from the field. From there, users can access the remote streams via dedicated iOS and Android applications, Windows and Mac clients in addition to a secure web portal.
Police Scotland commissioned the complete package to be in place to stream helicopter downlink into the Control Room during COP26 in November last year.
Real-time aerial view
Inspector Nicholas Whyte of Police Scotland's Air Support Unit stated: "Police Scotland remains focused on providing officers with innovative solutions that help us to keep people safe. The Excelerate technology allows the Air Support Unit to downlink live footage from the helicopter or drone to any Control Room in Scotland, to police commanders on the ground and to officers' police-issued mobile devices who are directly involved with the incident. This gives those involved a real-time aerial view of events, enabling them to make better informed decisions about an operation or search as well as maintaining officer and public safety."
David Savage, founder and CEO at Excelerate, explained: "Our solution to allow streaming from a helicopter to the Control Room during COP26 is a perfect example of Excelerate's DNA in action. The challenge was to provide a robust end-to-end solution to very specific requirements. We did so through the problem-solving and 'outside of the box' thinking that have been our hallmark over two decades of experience and investment in secure infrastructure and connectivity ecosystems for UK and overseas Emergency Services."